This morning i received old photos from our Englebert-line of the familytree with the request if i could tell who is who from these old photos..
they could be from their grandmothers (Kraayenbrink) too, so if i could recognize the Kaemingks.. 
For most I needed to send them to more family members to help me recognize too.. but this one of twentyfive i recognized my very own ancestors..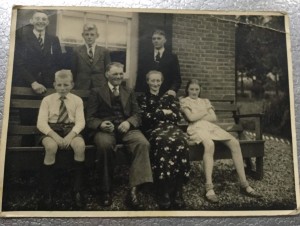 This is the photo of Hendrik Jan & 'Opoe' Aaltje
with their 5 children,
4 of them i met many times in my own life.
Being my own Grandpa and his siblings.
the 5th child, the youngest son, died in an motorcycle accident in 1945 at the age of 14 years young.
Theodor Johan Kaemingk  juli 20th 1931 – aug 14th 1945
1945 was a heavy year for this family,  Grandpa Hendrik Jan has been prisonized due to the war from nov 1944 till april 1945 of which the last 2 months in camp Wilhelmshaven from which he escaped by illness-transport. on april 16th
April 28th 1945 is a day of mixed emotions, finally he returned home, but barely alive, and at the same day his first grandchild is born. 3 and a half months later his youngest son died in an accident.
if anyone has more (old) family photos to share,
please send them to kaemingk.familytree@gmail.com